Listening Tests
A listening test measures one or more perceptive audio features and can be a powerful tool in a number of fields, ranging from sound quality, to room acoustics and word intelligibility assessment, with or without sound reinforcement equipment.

To answer these needs, Materiacustica srl developed the Intelligo system: the simple, effective and customizable way for preparing, conducting and analyzing individual or collective listening tests.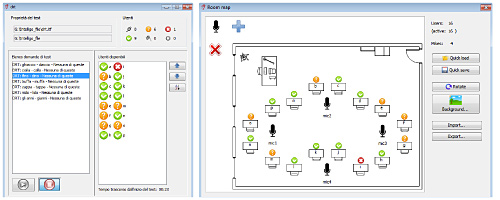 Synopsis
Intelligo is based on a client–server architecture: tests are handled by a software (server) running on a standard laptop PC, while data collection is delivered by means of a set of touchscreen, off-the-shelf mobile phones (clients).

Tests can be automated and sound reproduction may be either local to the host machine, or carried out by synchronizing with some external renderer, e.g. via MIDI or socket.

Testers answer by touching their mobile terminal screen, through an intuitive and sober interface, so to easily suit even less experienced users. The tester status is constantly monitored and a graphically-enriched spatial distribution of the terminals can be laid out.

The system is particularly robust with respect to the entering or leaving of testers at every instant. Along with its wireless architecture and quick deployment (even when away from home), it makes Intelligo the ideal choice for collective tests.

The system collects not only what explicitly entered by the tester according to the type of test, but also its response time, which can be included in the later analysis.

Intelligo allows an automated implementation of the ISO/TR4870:1991 standard specifications and can be effectively employed as required by the ANSI/ASA S 3.2:2009 standard.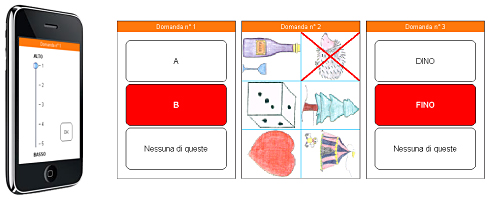 Technical Specifications

Software

Hardware

In the basic configuration, 25 mobile terminals (one per tester), equipped with a touchscreen and WiFi-enabled

A professional access point

On demand, a thoroughly configured and tested notebook

A convenient suitcase for easier transportation and conducting tests away from home

Measured Parameters

Word intelligibility test of type Diagnostic Rhyme Test - DRT (already available for the Italian language)

Word intelligibility test of type Word Intelligibility by Picture Identification - WIPI (already available for the Italian language)

Paired-comparison test

Semantic-differential test: continuous or discrete judgment, via an adjustable slider displayed between the two terms to compare

Notes
All types of tests are fully customizable with regards to languages and methodologies and easily extendable. You are welcome to ask for custom solutions and we are available to evaluate how to adapt and tailor the system to your existing software or hardware platforms. In the near future, an analysis module will be available for data analysis within Intelligo.

References
N. Prodi, C. Visentin, C. Bellettini, Misura dell'efficienza d'ascolto in aule scolastiche, 38° Convegno dell'Associazione Italiana di Acustica, 8th - 10th June 2011.

N. Prodi, C. Visentin, A. Farnetani, Intelligibility, listening difficulty and listening efficiency in auralized classrooms, J. Acoust. Soc. Am., 28, 172-181 (2010).